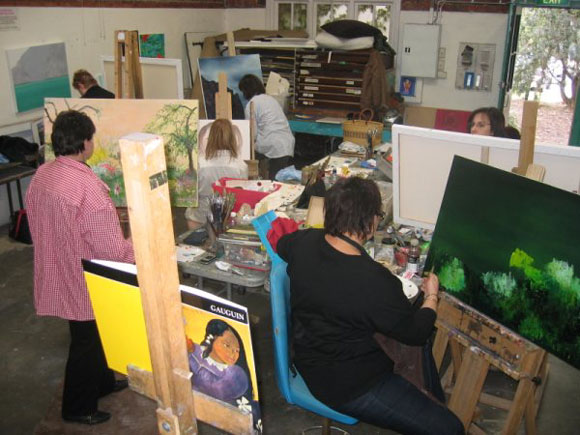 Click to view more photos...
Painting for Beginners
These classes are designed for absolute beginners. You will learn the fundamentals of painting and drawing - composition, tone, colour, paint application and observation. The classes are relaxed and informative with small class numbers ensuring one on one attention with a professional artist.
Cost $200 - 5 consecutive weeks
Intermediate Classes
Further develop your practice focusing on your particular interest - landscape, abstraction, portraiture, still life etc. Explore methods and materials with technical guidance. A non-toxic work practice is taught.
Cost $200 - 5 consecutive weeks.
First Sunday Painting Day/Weekend Workshops
Ideal for anyone who struggles to meet weekly evening classes. An informative and relaxing full day painting suitable for all levels. Held at beautiful Linden Gallery in St Kilda, there is no better way to spend your weekend!
Cost $160 per day
Class Session Details
Gasworks Arts Park, Albert Park
Evenings: Monday, Tuesday and Thursday, 6.30 - 8.30 pm
Mornings: Tuesday 9.30 - 11.30, 11.30 -1.30
Linden Centre for Contemporary Arts, St Kilda
Evenings: Tuesday, Wednesday 7 - 9 pm
Mornings: Wednesday 10.00 -12.00am
Sunday - First Sunday of each month 9.30 - 3.30
Enrol Now. Classes fill quickly... Email: linda@learntopaint.com.au : Phone: 0412 953 436
GIFT VOUCHERS AVAILABLE